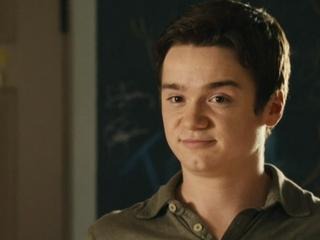 Brandon

Gender

Male

Age

18

Hair color

Brown

Eye color

Brown

Address

Ojai, California

Occupation

Student

Family

Unnamed (father)
Unnamed (mother)

Relationships

Unnamed (boyfriend)

Friends

Enemies
Brandon
is a gay student from North Ojai High School. He is bullied because of his sexuality and reffers to this school as a
Hell hole.
He was the second person to pretend to have sex with Olive (the first being imaginary).
The movie
Edit
Brandon is first seen cleaning for detention with Olive, where he reveals his sexuality and it isn't just rumours. Olive suggests he should fake hetrosexuality to fit in. Later, he shows up at Olive's house and asks her to pretend to have sex with him at a party. She innitially refuses, but is dragged into it when he reveals how terrible he feels about himself.
At the party, he becomes popular after having pretended to "do it" with Olive, branding her the school slut. He reveals to his friend who is also bullied what Olive did for him, which starts the long chain. Olive wants to ask Brandon to reveal how it was all a lie after the others say no, but it turns out that he left a note to his parents on his bed saying "I'm gay, bitches!" and ran off with another male. He is seen embracing with his boyfriend at the end of the movie.