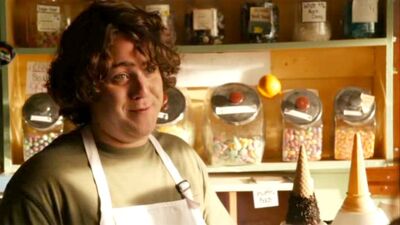 Evan

Gender

Male

Age

18

Hair color

Dark brown

Eye color

Brown

Birthday

1992

Address

Ojai, California

Occupation(s)

Student
Employee at Ojai Frozen Yogurt

Friends
Evan
is the third guy (the second real one) that Olive pretends to have a fling with. She pretended to let him fondel her chest, although
Evan
wanted to get some "butt action" or some "pants rubbing". Whereupon said slightly angrily, "What are you, 9?!"
Apparently, after Olive is talking to everyone about telling the truth about their encounters with her, we see him working at a frozen yogurt joint, with a better outlook on life, and he tells Olive that he is not going to come clean about their encounter, because he's hooked up with several other girls since then.
We last see him sitting with his other fellow students at the assembly where Olive is telling everyone to log on their computers and to ditch the football game.