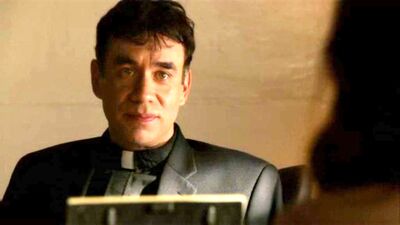 Pastor Bryant

Gender

Male

Age

40's

Hair color

Black

Eye color

Hazel

Address

Ojai, California

Occupation

Pastor at a Christian Church

Family

Mrs. Bryant (wife)
Marianne Bryant (daughter)
Unnamed (son)

Enemies
Pastor Bryant
is the husband o Mrs. Bryant, and the father of
Marianne Bryant
and her younger unnamed brother.
He is the pastor at his church and he is very against sex before marriage. The only scene he is seen in is when Olive is trying to figure out what is worse, lying or adultery. She never really gets an answer from Pastor Bryant, however, because she discovers that he is the father of Marianne.
He has a quick temper, because after Olive accidentally knocks down a picture of him, his wife, Marianne, and his son, he totally flips out. Olive soon leaves, and the pastor is seen later on viewing Olive's webcast.